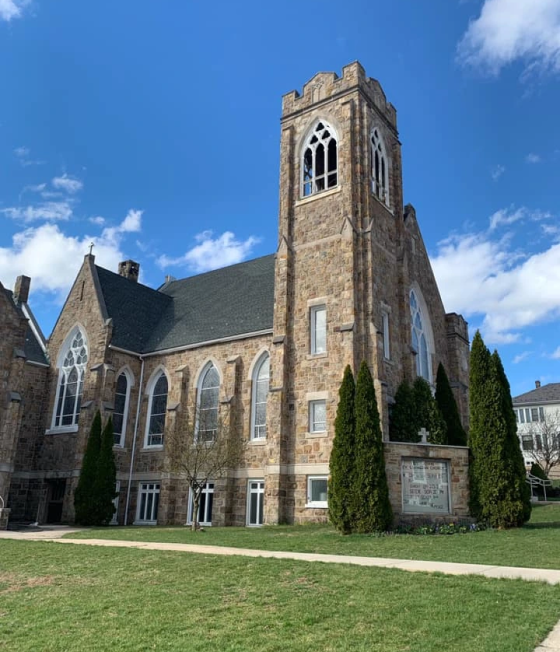 Nazareth Roofing Focused on
Repair, Replacement, and New Construction
Searching for a Roofer Near Me in
Nazareth
Symmetry Construction has provided the community with Nazareth roofing services for over 5 years. We have been successful in delivering the highest quality commercial and residential roofing services available. Weather it's your home or place of business, Symmetry Roofing has you covered.
Our promise is to produce a custom-tailored project, from our team of licensed, qualified, and skilled technicians. We only employ the best roofing contractors in Monroe County.
Installation and Roof Replacement Services in
Nazareth
The residents of Nazareth recognize Symmetry Roofing as the number one Northampton County roofer on whom they call when they are in need of a roofing repair, roofing installation, or a roofing contractor. NEPA can have severe weather, especially in Nazareth. Hail storms can cause a complete failure in a residential or industrial roofing system. A defective roof can cause water and structural damage. We find this absolutely unacceptable.
Symmetry Roofing is Nazareth' premier commercial and residential roofing specialist and promises to deliver you sanity, safety, and peace of mind by giving you the personalized service you need.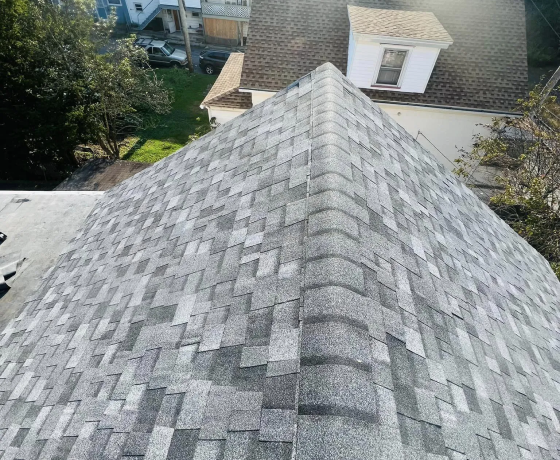 Emergency
Nazareth Roof Repair
If your aren't ready for a full new roof installation, Symmetry Roofing is available to fix leaks and any damage your roof has sustained due to age and weather.
Pennsylvania is a beautiful state to live in. However, heavy storms and occasional hail storms can cause damage to your roof. There are also numerous other unforeseen hazards a roof can face. Symmetry Roofing will work with your insurance company to get the best new roof or roof repair done for you.
What Can Cause
Roof Damage?
Do you have a roofing problem? Sometimes roofing problems are obvious like when a gutter gets crushed by a tree or shingles that are blown off the roof during a storm. Other times, a closer look is required to identify an issue that deserves attention. Some problems are easy to detect, while others require an expert eye. most issues that require a roof repair are the following: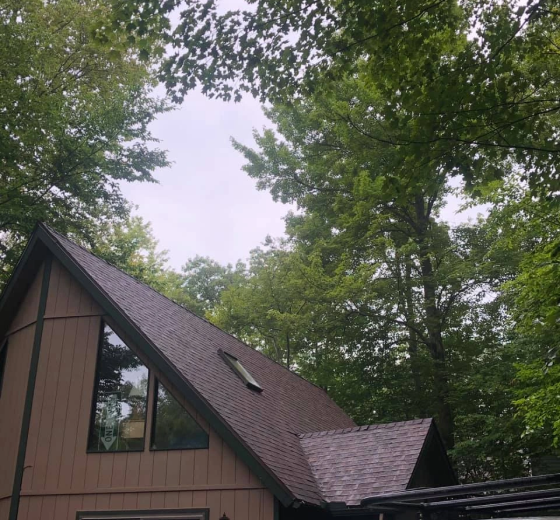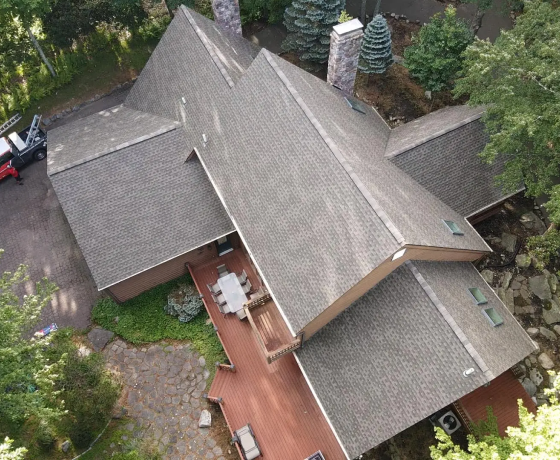 Roof Replacement & Repair Services in
Nazareth
Your homes roofing system acts as a shield for your walls and foundation. These aspects are vital to your home or office, and this means you need the best roofers in Nazareth to deliver residential and commercial roofing services available. Symmetry Roofing promises a custom-tailored job, done right the first time. Our team will have your issue diagnosed quickly, and we will create a customized roof repair solution that will address the issue and restore your property to a perfect condition as soon as possible. We are one of the only roofing companies in Nazareth to offer a labor warranty on top of the manufacture's warranties.
What Type of
Roof Service

Do You Need?
Whether you want to update the look of your home with a custom Rubber roof or need hail damage repair on your shingle roof, we can do it all. We strive to provide you with a quality roof that keeps your family and home safe.
You'll have a highly professional and skilled expert who can answer your questions while helping you find a solution that is uniquely suited to our climate in Nazareth.
For roof repairs and replacements, or emergency roofing, call on the trusted professionals. We're here to assess damage to your roof with a free roof inspection and provide you a fair quote that will help ensure your roof is covered by your homeowner insurance.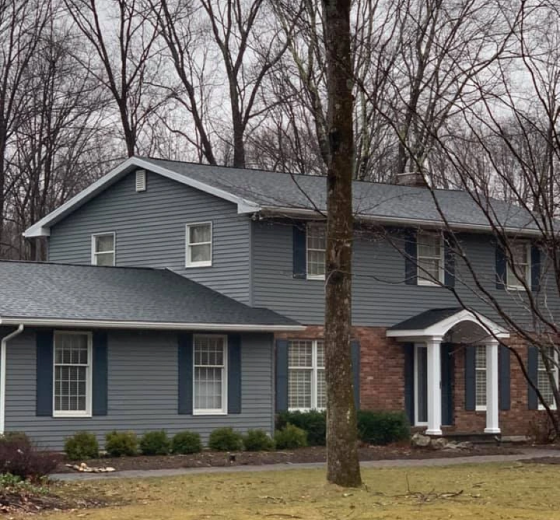 Nazareth Roofing

Common Questions and FAQ'S
The most common type of roof in america is asphalt shingle. These roofs last around 20-30 years, but a roof can last much longer than that when maintained properly.
If your roofing was installed over old material, you may expect a shorter lifespan. Also, adequate ventilaiton is important. If your ventilation is not good, this may shorten your roof's lifecycle. if you notice excessive granules in the gutters on your home indicate the roof may need to be replaced. This is a sign of the life of the shingles coming to its end. you may notice the presence of dark spots on the roof. This may be a sugn of granules that are falling off.
As a homeowner, there are several key questions you want to ask your roofing contractor. For example, many people ask about the warranty on the roof. What a lot of people don't know is there actually are two different types of warranties. One covers the materials used and the other covers the labor and workmanship. Please read over your terms and conditions of each warranty.
At Symmetry Construction, we want you to have the best possible experience. We work with you to make your roof replacement process as stress-free and fast as possible. We have over 20 years of experience that you can leverage.
Nazareth
is a borough in
Northampton County
, Pennsylvania. The borough's population was 5,660 at the 2022 census. Nazareth is part of the Lehigh Valley metropolitan area, which has a population of 861,899 and is the 68th most populated metropolitan area in the U.S. as of the 2020 census.
Things To Do In Nazareth :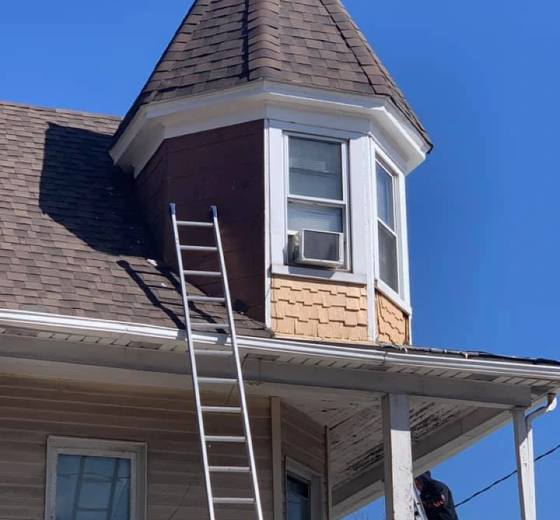 Driving Directions from
Nazareth , PA
Our office is located at 1001 Industrial Rd, Nesquehoning, PA 18240
1. Take PA-248 W and US-209 S to Industrial Rd in Nesquehoning
2. Turn right onto Industrial Rd
Destination will be on the right Symmetry Construction Enterprises: Roof Repair and Replacement specialists